Updated with market data as of 6/30/20
The stock market had an awful day today, down just over 3% on the day and about 8% from its all-time highs just a month ago.  I'm starting to hear a bit of a concern from people as they don't want to go through another 2008 financial crisis again.  It's probably a good time to take a quick step back and look at some of the statistics on how markets have performed over longer periods for some perspective: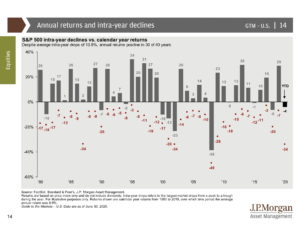 10% corrections are common
In the chart above* you can see that in full calendar years stocks end the year positive much more often than negative year-to-year.  You can also see that we experience double digit intra-year declines fairly often even though we end up positive at the end of the year. It's not fun to go through at the time but 10% corrections in the market happen in roughly half of all years going back to 1960.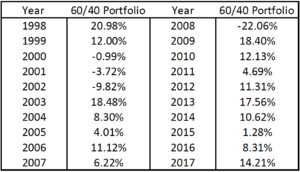 *Source: http://blairbellecurve.com/calendar-years-are-arbitrary/
Your average return over time can be consistent but it is almost never consistent year-to-year
If you held a typical 60% stock / 40% bond portfolio over the last 2 decades – through two bear markets – (one of which was the largest in our lifetime in 2008) you ended up with a remarkably consistent return over those two 10 year periods, averaging between 6-7% (1998-2007: 6.26%, 2008-2017: 6.98%).  But you almost never actually got this return in any single calendar year with the exception of 2007.  This is why it is so important to try not to focus too much on the short term.  
It's A Long Road
Per the author, Blair DuQuesnay: "Do you remember what your portfolio's return in 2002? How about 2012? Do you even care about those numbers anymore? You probably don't if you stayed invested. These numbers are good reference points, but it is important stay focused on the bigger picture."
Remember why you are investing in the first place.  For most of us, it's to pay for the kind of life we want to live in the future.  Hopefully some of these statistics help you continue to play the long game.
Read the whole article here:
http://blairbellecurve.com/calendar-years-are-arbitrary/