Last week, the Federal Reserve indicated that they would keep interest rates at zero through 2023.  This is on top of the historic growth in the US money supply so far this year.   The Federal Reserve is doing everything they can to stoke some kind of inflation.
"With the Federal Reserve and Congress pushing stimulus efforts to new heights, some investors are keeping a close eye on a surge in the U.S. money supply for signs of inflation's long-awaited return."
After over a decade of subdued inflation, investors are starting to revisit strategies to protect themselves in case it comes roaring back through a combination of monetary policies and post-Covid demand.  One of the classic inflation hedges is gold, which has had a great year so far in 2020.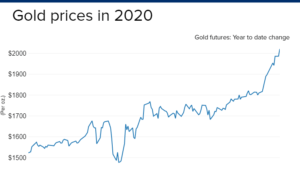 So should you add gold to your portfolio?  I wrote an article and was interviewed about this topic on The Street.  You can see that article and interview below.